Increasing demand for renewable and cost effective energy solutions is providing geothermal heat pump market a strong business ground to expand in the coming years. Fluctuating crude oil prices have resulted in a shift in consumer trend toward stable energy solutions such as geothermal heat pumps. The government has played the role of a catalyzer in the growth chart of the industry over the past few years. Initiatives which include financial supports, federal income tax credits, rebates, subsidies, renewable heat incentives have encouraged the adoption of non-conventional energy sources, which otherwise catered geothermal heat pump industry share. As per a report by Global Market Insights, Inc., Geothermal Heat Pump Market worth more than USD 80 billion in 2016, is projected to cross a revenue of USD 130 billion by 2024. Also, as per estimation, the installed power capacity of the market is expected to surpass 110 GWT by 2024.
 Europe Geothermal Heat Pump Market Size, By Product, 2016 & 2024 (MWt)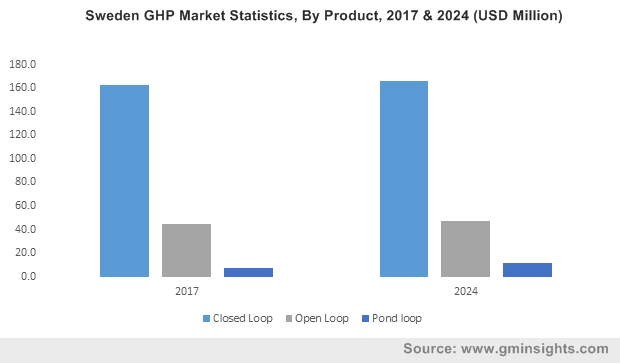 Cost effectivity, seasonal flexibility, eco-friendliness, and minimal maintenance cost are some of the attributes that make geothermal heat pump market one of the fastest growing renewable energy based industries.  Unique ability to use underground temperature as a heat exchanging medium for both heating and cooling purposes is expected to boost the industry growth in the years ahead. However, expensive installation of these heat pumps is somewhat acting as a deterrent in the growth curve. In order to mitigate this issue, key players of the market are heavily investing in research activities to minimize the manufacturing cost of geothermal heat pumps.
Get a Sample Copy of this Report @ https://www.gminsights.com/request-sample/detail/370
Closed loop dominated the overall geothermal heat pump industry share in 2016, by covering almost 75% of the overall product landscape.  These systems can be installed either vertically or horizontally depending on the size of the plot. Minimal maintenance and operational cost, superior reliability, higher efficiency, and flexibility make it the most suitable choice for the investors. Vertical installation gains a popularity over horizontal one due to its less space requirement. As per the estimates, closed loop geothermal heat pump industry is slated to record a substantial growth chart at an annual rate of 8% over 2017-2024. Low installation cost and comparatively less heat transfer make the market demand high for open loop installation.
Geographically, North America and Europe have a strong foothold in the global geothermal heat pump market. Several beneficial initiatives taken by the U.S Government and European Union to promote adoption of renewable energy resources for daily usage, is chalking a profitable road map for the regional geothermal heat pump industry. For instance, in 2030 climate and energy framework, EU underlined a target of reducing greenhouse gas emissions up to 47% within a period of 13 years. It also projected that by 2030, renewable energy utilization will cover 27% of the total consumption. Germany is the major revenue contributor for Europe geothermal market which accounted for 15% of the regional market in 2016. Germany has also announced to invest over USD 250 billion in the country's geothermal heat pump infrastructure. U.S. geothermal heat pump market which accounts for a major portion of North America industry share alone collected a revenue of USD 20 billion in 2016. Constant ground temperature all over the country has acted in favor of the market demand.
The market is fragmented with players pacing toward moves such as strategic collaborations and regional expansion to sustain the competition. Prominent geothermal heat pump industry participants include Kensa Heat Pumps, NIBE, Robert Bosch, Finn Geotherm, Glen Dimplex, and Stiebel Eltron.
Author Name :Satarupa De