Rising concerns over greenhouse gas emissions and steadily increasing consumption of power has proliferated the global gas generator sets market, owing to crucial application segments like power backup, continuous power and peak shaving. Generator sets (gensets) are essential to meet consistent demand for uninterrupted electricity supply in commercial and industrial estates as well as to support emergency operations in areas affected by natural disasters. Fast-paced growth of the residential sector worldwide will facilitate the expansion of the gas gensets industry and help it garner a broader consumer base. Augmented production of fuel sources like natural gas, shale gas, biogas, sewage gas and syngas will certainly make gas-powered generators a more viable alternative than diesel engines.
U.S. Gas Generator Sets Market Size, By End Use, 2018 & 2025 (USD Million)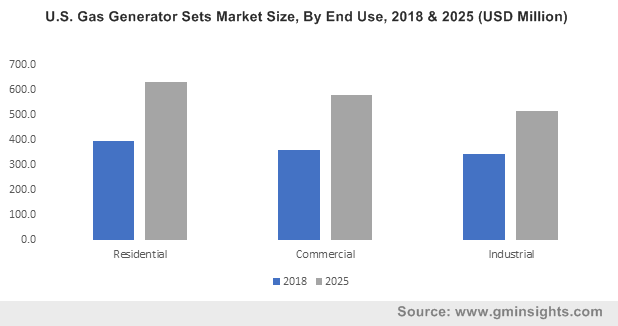 Essentially, natural gas boasts of several obvious advantages over diesel and remarkable advances in technology to harness the potential of gas could render diesel generators obsolete in the years to come. Natural gas is a cleaner burning fuel and emits lesser amounts of sulphur, carbon dioxide and other particulates than diesel, besides helping to meet stringent emission mandates laid down by governments. The gas generator sets market will experience amplified demand from not only favorable low-emission operations, but also due to massive gas exploration projects being undertaken all over the world. For instance, the North Field near Qatar is deemed to be the biggest offshore gas project in the world, where on the other hand the U.S. has also recently discovered vast reserves of oil, gas and natural gas liquids in the Permian Basin.
With continued production of natural gas resources to power global industries and households, the gas gensets market will amass considerable revenues over the next few years. The industrial segment represents a major growth area for gensets, since manufacturing and processing facilities consume large amounts of electricity and often run machines for extended periods of time. Most industrial plants worldwide, small, medium or large, carry out 24 hours operations and any interruption in power supply could lead to notable financial losses. The gas generator sets industry could help businesses effectively address power outage issues resulting from various factors using an eco-friendlier fuel.
Demonstrating the significant potential of the industrial end-user segment, it was reported that in 2016 the industrial output of China had reached approx. $4.56 trillion. In the same year, U.S. recorded and output of about $3.6 trillion and Germany's industrial output had exceeded $1 trillion as well. This statistics affirm the vast prospects for the gas gensets industry from various industries such as auto manufacturing, food and consumer goods production. In addition to power outage, peak shaving could emerge as a prominent application area for gas-powered gensets, since it is required to assist in power management and optimize utility bills.
Get a Sample Copy of this Report:@ https://www.gminsights.com/request-sample/detail/3221
Elaborating further, peak shaving basically means using lesser energy supplied by utility providers during peak demand hours, when variable pricing could lead to highest rates being applied to the power consumed within that time. Though it is more complicated to setup gensets for peak shaving purpose, it could deliver substantial returns on investment in a few years along with saving on monthly bills. Managing peak shaving through the use of a generator offers the additional benefit of powering the entire operation of an industrial facility in case of a power outage. Improved accessibility to natural gas implies that the gas gensets market could witness a higher demand from businesses looking to save considerable annual costs through peak shaving.
All in all, the global gas generator sets market will gather immense momentum over the forecast period owing to increased adoption by industries for managing electricity usage and realizing various cost advantages provided by the equipment. Anticipated growth in the industrial segment, such as China's 'Made in China 2025' vision or the worldwide increase in processed food consumption, will guarantee a lucrative future for the industry. Leading players in the gas gensets market include Caterpillar, Cummins, Clarke Energy, Kohler SDMO, Genmac, Mahindra Powerol, Briggs & Stratton, MTU and Wärtsilä.
Author Name : Pankaj Singh