Electric Water Heater Market size has witnessed a massive upsurge in the recent times owing to the consistent product upgradation and business expansion approaches adopted by the major market players, coupled with rising disposable income of households, increasing electrification in the developing nations and rigorous energy-efficient regulations being prescribed by governments across the globe. The ever-evolving consumer behavior and altering purchase patterns have further fueled the growth of electric water heaters market. With rising consumer education regarding water-heater performance and energy efficiency, the manufacturers have been compelled to rethink about the current designs of electric water heaters and enhance the existing technologies. To cite a noteworthy instance, one of the global industry leaders partaking in electric water heater industry, Bradford Corporation, has recently launched its eF series water heaters equipped with a thermal efficiency of 90% and a higher hot-water retrieval. Furthermore, citing an instance of robust partnerships, U.S. based water heating systems provider, Aquanta Inc., recently announced its alliance with the leading electric utility and energy solutions provider in the U.S., NRTC to build a strong distribution framework to supply its smart water heater controller in the U.S. market. Similar moves are likely to materialize over the next few years, in turn, boosting the electric water heater market growth.
U.S. electric water heater market, by application, 2016 & 2024 (Million Units)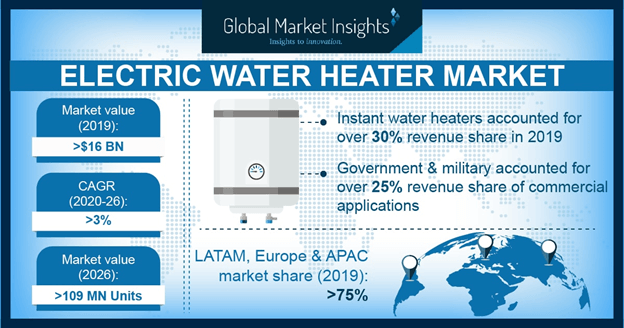 Electric water heater industry is poised to witness great demand for energy efficient products, especially against the backdrop of escalating electricity tariffs and growing governmental emphasis on conserving energy. The magnitude of expansion across each product of electric water heater market such as tankless electric water heater and storage based electric water heater has been immense. Of these, the tankless electric water heaters minimize standby energy losses and last longer. In addition, tankless electric water heaters have been evolving with the upcoming market players conjoining the already popular water heater with ohmic array technology. For instance, U.S. based Heatworks Technologies has raised $7.2 Million from investors including Microsoft to produce state-of-the-art tankless electric water heater using its patented Ohmic Array technology which includes graphite electrodes instead of metal heating and hence never rusts, unlike traditional heating products. With the introduction of such products, the upcoming electric water heater market players are attempting vigorously to gain competitive edge in the growing market size dominated by influential players.
Get a Sample Copy of this Report:@ https://www.gminsights.com/request-sample/detail/680
Meanwhile, it would be sensible to take note of the factors that may constrict the electric water heater market size in the immediate future. The alternative energy sources such as hybrid-powered appliances and solar power are garnering swift popularity in the commercial and residential areas across the globe. Large enterprises are preferring solar-powered appliances owing to their long-term advantages. Therefore, the presence of these alternative sources is likely to adversely impact the growth potential of electric water heater market size in the ensuing years.
As per the estimates, the Asia Pacific region would steer the electric water heater market growth prospects owing to its huge population, rising disposable income of households, increasing construction activities in residential and commercial spaces, especially in countries such as China and India.
With a sturdy and well-established distribution and sales channel spanning across majority of the regions across the globe, prominent industry players such as Bradford White Corporation, A.O. Smith, Rheem Manufacturing Company, Haier Electronics and Ariston Thermo have a firm footprint in the electric water heater market. The electric water heater market, owing to aforementioned factors, is considered a combative and saturated industry with upcoming players trying to gain consumer loyalty through discounts and promotional activities. A recent report on electric water heater market, composed by Global Market Insights Inc., has forecast the market valuation to surpass $30 Billion by 2024, having been pegged at $18 Billion in 2016.
Author Name : Saif Ali Bepari