Forming an essential fragment of the global plastics sector, Injection Molded Plastic Market has established itself as one of the most dynamically evolving businesses of recent times. The injection molding process is one of the most commonly-used plastic formation technique across myriad industrial sectors, subject to the absolute ease and convenience provided by this methodology. With a widespread spectrum of applications across the automotive, packaging, construction, and consumables & electronics sectors, injection molded plastic industry has indeed embarked on a highly profitable growth path since its inception. Statistics bear testimony to the aforementioned fact – global injection molded plastic market size stood at 100 million tons, and has been forecast to record a CAGR of 5% over the forthcoming years.
The process of injection molding has penetrated most of the plastics manufacturing sectors, and is used to develop a range of plastic products, right from wheelie bins and car bumpers to micro parts for packaging. Manufactured from materials such as ABS (acrylonitrile-butadiene-styrene), nylon PA, polycarbonate, HDPE, and polypropylene, injection molded plastic products are liberally used across a plethora of manufacturing sectors. It is therefore, evident that the changing trends of the manufacturing sector will have a profound effect on the growth path of injection molded plastic industry.
MEA Injection molded plastics market size, by application, 2012 – 2023 (USD Million)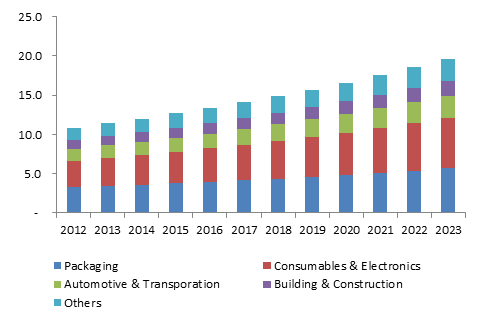 The automotive sector will stand as one of strongest growth drivers of injection molded plastic market. As per estimates, automotive & transportation applications are slated to witness gains of more than 5.7% over 2016-2023. The Corporate Average Fuel Economy (CAFE) has implemented regulations to produce low-fuel consumption cars, which will spur the business expansion. The production of lightweight automobiles will also boost injection molded plastics industry – estimates claim that even a mere 10% reduction in car weight will lead to saving around 5% to 7% of fuel.
In the recent years, injection molded plastic market has been influenced by a plethora of trends. It is noteworthy to mention that some of these trends mentioned below will not have a prominent impact on solely injection molded plastic industry, but on the entire plastic manufacturing sector.
The impact of automation on injection molded plastic market
The onset of automation has created a path-breaking influence on practically all the industries worldwide. Robotics has long since been a disrupting trend in the manufacturing sector, and if surveys are to be believed, its impact across injection molded plastic industry is slated to be immense. Heavily deployed in myriad manufacturing processes, automated tools and robots have transformed the dynamics of manufacturing sector. Automated robots are quick, accurate, agile, and adaptable, which ultimately translates into efficient production.
Injection molded plastic market giants such as BASF, SABIC, Eastman, Dow, ExxonMobil, INEOS, and Huntsman have been deploying these robots to streamline the process of injection molding and develop highly efficient plastic products within a lesser amount of time. Robots apparently provide more leeway and lend flexibility to the manufacturing process, thereby leading to the expansion of injection molded plastic industry. In fact, highly sophisticated robots can also be used to manufacture customized products, especially across the automotive sector.
Get a Sample Copy of this Report@ https://www.gminsights.com/request-sample/detail/416
The impact of renewability on injection molded plastic market
In accordance with the latest trends of eco-friendliness and sustainability, injection molded plastic industry players have been striving to develop bio-based, recyclable products. Creating bio-based plastics that are reclaimable and recyclable is likely to pose a major challenge for manufacturers, nonetheless, the trend has penetrated most sectors, which has made it inevitable for injection molded plastic market players to generate plastics without the usage of fossil fuels. Many companies have already implemented a prototype of such products, from soybeans, corn, flax, etc., which seem to be garnering acclaim. In response, many other entrants in the industry are also striving to achieve a balance between conventional plastic production and alternative, bio-based plastic production, which will eventually stimulate injection molded plastic industry size.
The impact of on-shoring on injection molded plastic market
On-shoring has begun to gain renewed traction lately, despite the mixed reviews regarding its execution. The trend of shifting the manufacturing facilities back to the home ground will prove to be beneficial for most sectors, injection molded plastic industry being no exception. Some of the statistics supporting the resurgence of on-shoring across the U.S. are outlined below:
As per a 2014 survey, manufacturers predicted that the United States will be responsible for more than 455 of their production by 2019.
The year 2014 also depicted that 20% of the top executives working companies that are a part of the billion-dollar fraternity intended to come back to the U.S. from China.
More than 22% of other such executives have declared that they would do the same in a few years.
A humongous figure exceeding 50% have declared interest in on-shoring.
The impact of technology on injection molded plastic market
Connected technologies will have a profound impact on injection molded plastic industry in the coming years, as depicted by surveys. Over the last few years, manufacturers have realized that customer needs need to fulfilled immediately, so that production issues can be resolved sooner and managers are able to troubleshoot issues the moment they arise. On these grounds, the advent of IoT has helped streamline the manufacturing process across major sectors, including injection molded plastic market. Technology will also help factories utilize sensors, digitization, and networked devices, that will help in effective cost-control and enhanced productivity.
The contribution of the United States toward the overall injection molded plastic industry
The plastics sector is the third-largest manufacturing business in the U.S., which is a strong factor impelling the growth of injection molded plastic market. Some of the vital facts that make the U.S. one of the most lucrative revenue pockets of injection molding industry are as follows:
The U.S. plastics sector accounts for the employment of almost 900,000 employees in the region, which will be a key factor impelling the regional injection molded plastic market. In fact, the country houses around 16,000 plastic manufacturing facilities.
North America injection molded plastic industry, dominated by the U.S., is slated to depict a CAGR of 4.8% over 2016-2023 demand, supported by the expansion of the F&B packaging and construction sectors.
In 2012, plastic shipments accounted for more than USD 370 billion in sales. The same year had actually recorded a valuation of more than USD 12 billion.
Experts have rightly stated that injection molding can be qualified as one of the greatest technologies ever conceptualized, that has transformed the outlook of the global plastic sector. The advent of 3D printing has cast a momentary gloom on the growth spectrum of injection molded plastic market, especially since the former is reputed for the production of finished prototypes, however, industry players have been concentrating on bringing forth newer techniques to develop a range of plastic models that may be more flexible and affordable. Keeping abreast of the latest trends, companies operating in injection molded plastic industry have also begun to concentrate on the development of bio-based plastics. Also, they ultimately intend to reduce the dependency factor on crude oil subject to strict environmental legislations enforced by regulatory bodies, which may lead to the generation of lucrative investment opportunities, thereby creating a favorable growth path for injection molded plastic market.
Author Name : Saipriya Iyer