Increasing investments in sustainable urban development fall among the principal driving factors of Europe district cooling pipeline network industry. Centered basically around energy efficiency, district cooling systems are prominently deployed by regional governments of the EU in commercial as well as residential establishments to fulfill escalating demand for cooling systems. As the requirement continues to escalate, municipal bodies are finding it mandatory to establish long-term contracts with Europe district cooling pipeline network industry giants to set up district cooling plants. The growing acceptance of these systems owing to their economic and environmental benefits is certain to propel Europe district cooling pipeline network market size, valued at USD 900 million in 2017.
One of the most proactive countries across Europe that has accomplished quite some fame as far as urban development is considered is Denmark. Since the last few years, the Denmark government has quite commendably achieved its goal of minimized energy consumption. One of the cities in Denmark, Carlsberg, has earned the reputation of being one of most green cities in the country, solely on account of the deployment of district cooling facilities. Currently, in Carlsberg city, two storage tanks with a storage capacity of 2 million liters are deployed to enable energy-efficient and economically viable district cooling for office areas spanning a mammoth 300,000 square meters.
France District Cooling Pipeline Network Market Size, By Diameter, 2017 & 2024 (USD Million)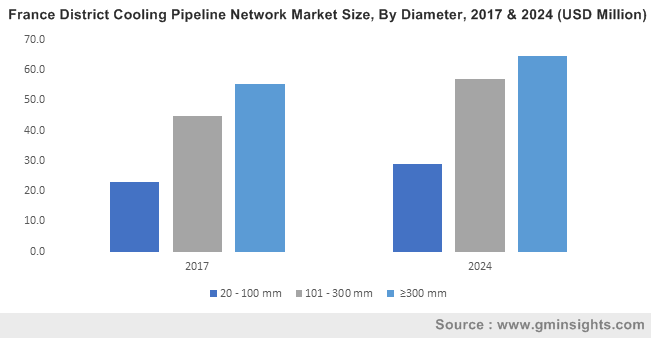 As these systems provide eco-friendly energy solutions, many commercial companies as well as residential building developers have been installing centralized cooling systems. The shifting trends toward the growing deployment of centralized cooling systems is thus likely to boost Europe district cooling pipeline network market size.
A prime driving force behind the growth of Europe district cooling pipeline network industry is the escalating implementation of energy efficient directives for reducing carbon footprints. Having recognized the potential energy savings that can be achieved with these systems, the European Union has framed a set of norms that would increase the deployment of these facilities across the continent. Regional government bodies have also affirmed that these systems will contribute extensively to the reduction of carbon emissions, a factor that is likely to impel Europe district cooling pipeline network industry outlook.
Get a Sample Copy of this Report@ https://www.gminsights.com/request-sample/detail/2571
Numerous member countries of the EU have been liasoning with one another in order to conjointly develop district heating and cooling systems for enhancing energy efficiency in residential buildings. These countries have also pledged to lower the proportion of CO2 emissions that arise due to energy consumption in residential as well as commercial buildings. Validating the abovementioned fact, in 2018, the Scotland government signed a deal with Denmark for reducing energy consumption in buildings by 15% by 2032 and derived emissions by 23%. This cooperation depicted by the EU member countries is certain to impel Europe district cooling pipeline network industry.
With the growing deployment of district cooling systems, pipeline manufacturers in Europe are naturally witnessing a stellar growth in product demand. In order to consolidate their stance as well in Europe district cooling pipeline network industry, these manufacturers are working independently to establish new manufacturing facilities across several European countries. Powered by their efforts in conjunction with the presence of a stringent regulatory landscape and the implementation of these systems across the residential, industrial, and commercial arenas, Europe district cooling pipeline network market is forecast to cross a valuation of USD 1 billion by 2024.
Author Name :  Sunil Hebbalkar