The recent launch of two offshore wind farms by Dong Energy is an instance demonstrating the expansion of global Offshore Wind Market. This Denmark based energy company has announced the inauguration of Gode Wind 1 and 2 offshore wind farms, located 45 km off the German coast, with a combined capacity of 582 MW. With most of the regional governments & regulatory organizations undertaking numerous initiatives to adopting renewable energy, offshore wind industry is estimated to surpass a capacity of 60 GW by 2024, having held a valuation of USD 60 billion in in 2016.
Global Offshore Wind Market, By Region, 2016 (Cumulative Capex, USD Billion)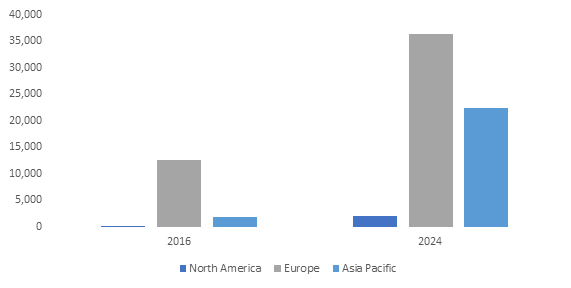 Europe has been one of the most outgoing participants of global offshore wind market. The numerous efforts taken by the regional government bodies have a key role to play in the development of this market. In addition, the continent is home to numerous energy companies that have been increasingly investing in R&D activities to come up high grade technology for developing sustainable energy. The European Union had funded a project in 2014, called the Horizon 2020, for a valuation of almost USD 80 billion. The funding is slated to last until 2020, and recently in 2017, the EU provided the annual budget of USD 17.83 million to reduce maintenance costs & offshore operations by integrating monitoring and control technologies. This program is EU's flagship, and is anticipated to propel Europe offshore wind industry over the years to come.
An urgent need to curb GHG emissions is also one of key factors fueling the growth of offshore wind market. To fulfill this requirement coupled with the need to provide uninterrupted electricity, the member countries of the EU, in 2016, declared their plan to achieve 21% of sustainable energy targets by 2020. Simultaneously, the continent aims to reduce GHG emissions by 26% from what it was in 1990, thereby impelling the regional offshore wind industry.
Get a Sample Copy of this Report @ https://www.gminsights.com/request-sample/detail/1763
The Asian Development Bank, World Bank, and the International Finance Corporation are some of the key financial institutions that are actively partaking in global offshore wind market. In Europe, the Offshore Wind Investment established by the UK Government to encourage investments in sustainable energy will promote the deployment of clean energy projects, thereby impelling the regional offshore wind industry. Pertaining to favorable government support, UK offshore wind market is anticipated to witness a steady CAGR over 2017-2024. A strict regulatory framework has facilitated the deployment of the Contracts for Difference for ensuring long term revenues from power projects in the nation. Recently, in 2017, a decline of 32% in offshore prices was also observed in UK. This is another factor that is expected to push UK offshore wind industry over the years to come.
Turbines, one of most vital components of offshore wind market, held more than 30% of the overall revenue share in 2016. Increasing investments toward the development of high grade wind based technologies will augment the demand for large capacity turbines across various geographies, thereby contributing toward the growth of offshore wind industry. Similarly, floating turbines have been gaining precedence, especially across the APAC and European belts. This is essentially due to the need to simultaneously accommodate shipping and fishing activities and reduce visual pollution. The first floating turbine encompassed a capacity of 30 MW and was developed by the Norwegian offshore oil and gas group in 2016. A total of USD 199 million was spent on this plant, which is located across the Aberdeenshire coast of Scotland. A significant rise in such investments will suitably augment Europe offshore wind market.
Germany is another region is Europe that has been contributing significantly to offshore wind industry, in addition to numerous other renewable energy initiatives. The German government has mandated stringent targets for increasing turbine capacities to generate renewable energy on a large scale. In addition, recently, the German government, in tandem with the governments of Belgium and Denmark, has planned to cumulatively add an offshore capacity of 60 GW by 2027.
The regulatory bodies in Netherlands have been increasingly striving toward promoting clean and affordable energy. On these grounds, the nation has come up with the National Energy Agreement, under which an additional 4.5 GW of offshore capacity is slated to be added by 2023. Recently in 2017, the nation integrated its largest offshore farm in the North Sea that is designed to manufacture 2.6 TWh of clean energy on an annual basis. Pertaining to the aforementioned facts, it has been estimated that Netherlands offshore wind market will grow at a rate of 12% over 2017-2024.
Offshore wind industry from electrical infrastructure is expected to observe tremendous gains, subject to the rising number of investments by key component manufacturers across the globe. For instance, in 2016, renowned French cable manufacturer, Nexans had been appointed by VBMS, the Netherland based subsea power cable manufacturer, to establish a subsea connection between offshore turbines and onshore transmission grids for its Blyth offshore wind project in UK. This venture is considered to be the first offshore wind farm of 66 kV capacity, developed by VBMS and EDF Energy Renewables and VBMS.
Wires and cables, a key sub-component electrical infrastructure, is also slated to depict steady gains over 2017-2024, after having held more than 2% of the overall offshore wind market share in 2016. Pertaining to the rising number of microgrid networks – courtesy, advanced distribution generation technologies, offshore wind industry from wires and cables will grow sharply over the coming years.
Research and development activities are being prioritized by companies in order to innovate high grade wind based technologies and impel offshore wind market. For instance, in 2017, an offshore wind tender of 1.5 GW capacity was launched by the German Federal Network Agency with an aim to reduce the generation tariff. The Netherlands government also aims to reduce the generation costs by 40% over the next ten years. In fact, recently in 2017, Statoil and Siemens had collaborated under the 'Hywind Scotland' project to come up with a floating wind farm in Norway. The farm encompasses a capacity of 30 MW and is expected to heavily influence the overall offshore wind industry.
The past decade has witnessed a bifold growth rate for global offshore wind market. The deployment of stringent government norms to curb carbon emissions and implement clean energy schemes will impel this market over the years to come. Reputed biggies such as Senvion, MHI Vestas, Sinovel Wind, Siemens, Doosan Heavy Industries & Construction, and Adwen have been adopting organic strategies to sustain their position in the escalating offshore wind industry.
Author Name : Saipriya Iyer