Steam autoclaves market size is expected to grow at a CAGR of 8.9% over the period of 2016-2023, owing to its rising application in hospitals, dental, medical waste management, healthcare, bio-hazardous waste management, and pharmaceutical sectors.  Steam autoclaves are widely used for sterilizing medical equipment, consumables, and healthcare supplies. Today, their most popular application in hospitals includes pre-disposable treatment as well as sterilization of pathogenic hospital wastes. Furthermore, implementation of strict government norms regarding biosafety will propel steam autoclaves industry growth over the next few years. Introduction of inexpensive & effective steam autoclaves along with the growing implementation of CSSD (Central Sterile Services Department) framework is anticipated to fuel the market growth over the coming years.
Steam autoclaves market revenue in medical sector worth USD 338.9 million, is predicted to reach USD 622.4 million by 2023, owing to its extensive use in hospitals and medical waste management. Steam autoclaves market size in laboratory sector is expected to grow at a rate of 9.3% over 2016-2023, due to its ability to handle bio-hazardous wastes produced by pharmaceutical firms.
U.S. Steam Autoclaves Market Size, by application, 2013 – 2023 (USD Million)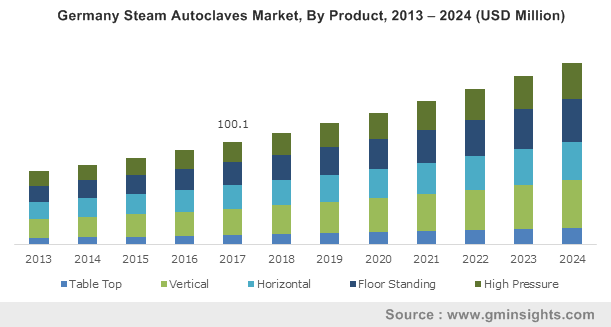 Major steam autoclaves include horizontal, table top, high pressure, vertical, and floor standing products. Vertical steam autoclaves market, which contributed over 25% of the overall revenue in 2015, is projected grow noticeably over the coming seven years. The growth can be contributed to its wide use in labs as well as in hospitals. Furthermore, vertical steam autoclaves are also used for treating as well as sterilizing biohazardous wastes in laboratories and medical establishments.
Get a Sample Copy of this Report:@ https://www.gminsights.com/request-sample/detail/500

North America steam autoclaves market size worth USD 673.4 million in 2015, is projected to witness a high surge over the forecast timeline. The growth can be attributed to the implementation of strict biosafety norms along with presence of manufacturing & distribution units of the established firms. Canada and U.S.  are expected to be the major regional revenue pockets.
Europe steam autoclaves market revenue is predicted to surpass USD 950 million by 2023. The growth can be credited to strict biosafety regulations predicted to be implemented by EBSA (European Biosafety Association) and CE across Europe. This will help in controlling the management as well as treatment of medical as well as bio-hazardous wastes in the region. Germany and UK are projected to contribute significantly towards the regional share.
Asia Pacific steam autoclaves market is projected to grow at a CAGR of 9.9% over 2016-2023, owing to rise in healthcare expenditure, economic growth, and increase in disposable income of the consumers. Furthermore, the execution of HIA (Health Information act) rules along with growing acceptance of CSSD framework are few of the factors predicted to contribute significantly towards the regional growth.  Australia, India, Japan, and China are anticipated to make significant regional revenue contributions.
Latin America steam autoclaves industry is forecast to witness a substantial growth over the coming seven years. Brazil and Mexico are expected to drive the regional growth.
Industry participants will try to increase their revenue and retain their market position through mergers & acquisitions and huge capital investments. Key steam autoclaves industry players include Hanshin Medical Company Limited, Tuttnauer, Priorclave Limited, Steris Corporation, ERYIGIT Medical Devices Inc., Promotal, Panasonic Healthcare Co. Ltd, Nuve, and Medisafe International Inc.
Author Name : Sunil Hebbalkar