Imaging
The rapidly growing adoption for high-precision, graphics-oriented applications in the automobile and healthcare sectors is certain to fuel GPU market growth in the forthcoming years. GPUs have become an essential part of today's mainstream computers and mobile devices and have been characterized by remarkable advancements with respect to performance and capabilities. The product successfully offers added support for analyzing complex datasets in a quick manner and is increasingly gaining traction in almost all consumer electronics straight from laptops, PCs and smartphones to car infotainment systems and latest digital systems.
Asia Pacific GPU Market Revenue, By Region, 2017 & 2024 (USD Million)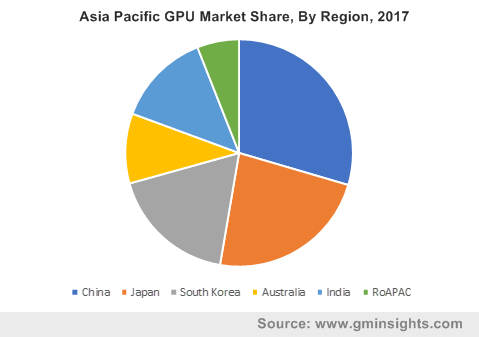 With the growing adoption of IoT devices that gather huge amounts of data which needs to be monitored and analyzed, the demand for high-end computing systems has effectively increased in the automotive sector. Reports suggest that the GPU market will amass quite some returns from the automotive sector owing to an increase in the use of GPUs to accelerate engineering and design applications. As the automotive industry is focusing on developing new vehicles with enhanced design & functionality, GPUs have found applications in CAD/CAM software. With the rising demand for these software increase, the GPU market is expected to witness an accelerated growth rate in the years to come.
Get a Sample Copy of this Report @ https://www.gminsights.com/request-sample/detail/3088
Another application vertical that will help propel GPU market is healthcare, owing to the demand for precision medicine and value-based healthcare. Real-time data has become more vital for healthcare organizations as clinicians seek more accurate information for diagnosing patients during their initial visit. Reports claim that healthcare providers and life science firms are among the 92% of the cross-industry organizations that plan to invest in near real-time big data analytics applications in the future. For instance, in April 2018, tech giant Google announced plans to reinvent the healthcare industry of U.S. with a focus on big data and AI. The company is reportedly using its know-how in AI to create a new system for the detection, diagnosis, and treatment of diverse diseases, that certainly will require GPUs for processing complex data, further augmenting the growth of the GPU industry.
Irrefutably, the gaming domain will be one of the most proliferating end-use sectors of the global GPU market. Mobile gaming is currently acknowledged as one of the fastest growing segments in the game industry – indeed, mobile users demand more immersive, connected gaming experience which provides high-resolution visual graphics and high-fidelity audio. Growing penetration of smartphones and tablets is also fueling the growth of the gaming industry. For instance, according to the ESAC Report 2018, in Canada around 80% users view video games as mainstream entertainment. Furthermore, reports from the Germany Trade & Invest cite that, in Germany, personal computers (PCs) stand as the most preferred gaming platforms with around 18.4M active users, followed by smartphones (17.2M), consoles (15.6M), and tablets (11.5 million).
The rapidly growing use of gaming devices and the paradigm shift towards online gaming are bound to upsurge the demand for high-end graphic processors to support gaming applications. As per estimates, the gaming sector is anticipated to hold a major share of 34% in the GPU market by 2024.
Some of the most preferred brands that have made a mark in the GPU industry include Nvidia, AMD, Intel, Microsoft, Google, IBM, PTC, Qualcomm, and S3 Graphics. GPU chip makers have been making heavy investments in addition to forging partnerships for developing new and better performing products. For instance, in January 2019, Nvidia announced its partnership with luxury carmaker Mercedes-Benz to develop a new automotive AI platform that could effectively offer control to the automaker's electronic gears equipped in its new car segments.
Author Name :Mateen Dalal
Rapid industrialization and increased demand for electronic components has propelled the automated optical inspection (AOI) system market expansion, with rise in consumption of automotive and consumer electronics. AOI systems have gained immense momentum for fast and accurate inspection of electronics assembly lines to facilitate the production of only the highest quality PCBs and surface-mount devices. Constant innovations in smartphone technologies and automotive electronics has reinforced the need for lowering time and cost of production, necessitating the involvement of the AOI system industry. Estimated to have recorded earnings of more than US$500 million in 2017, the global AOI system market will experience an accelerated growth rate from augmented industrial automation.
U.S. automated optical inspection (AOI) system market, by end-use, 2017 & 2024 (USD Million)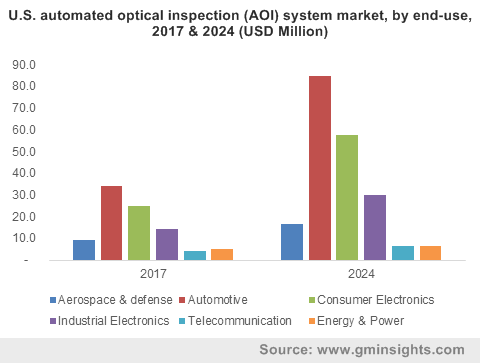 Automation has been a trending process among manufacturers around the world, and more factories are expected to be completely automated in the near future with advancements in communication and robotics. As the field of electronics production get more competitive, achieving the balance between manufacturing speed and quality through automation is considered to be a major factor for success. The AOI system industry is crucial in providing powerful solutions to help manufacturers monitor processes and greatly improve their overall quality. AOI systems can now be integrated with robots, pneumatics and other process components to offer precision quality control.
Increasing focus on consumer protection and the need for reducing the costs involved in 100% inspection process will further bolster the AOI system market. 100% inspection is critical for segments where a human life could be put at risk, for instance medical devices, portable electronics and automobiles. A while back, certain smartphone product launched by Samsung was under scrutiny due to exploding batteries which endangered the users while being charged or operated. It was found out that the leading cause of explosions was improper assembly of batteries, stressing the importance of inspection in automation. Experts believe the company could have avoided this fiasco by adopting quality inspection systems, such as AOI, for inspecting all batteries and not just samples.
Get a Sample Copy of this Report:@ https://www.gminsights.com/request-sample/detail/2969
Speaking further on the significance of the AOI system market, electronic components are becoming smaller in size, making it difficult to perform accurate and fast checks manually. PCBs for different applications require hundreds of parts to be soldiered or mounted on them in a short period of time, needing AOI systems to inspect each and every part, either in pre-manufacturing stages or post-production. Many global industries are adopting fully-automated manufacturing processes for not only PCB production but also cars and consumer electronics. Subsequently, the AOI system industry will witness robust demand over the coming years.
To elaborate, Volkswagen recently announced that it would be construction its electric vehicle manufacturing facility near Shanghai, China, where fully-electric SUVs and other e-vehicles will be made. The company said the new facility will consist mainly of robots, around 1,400 of them, and will be operational by 2020. The expected 300,000 per year capacity of the factory represents extremely high
levels of automation that will be implemented and signifies a key application area for the AOI system market. Government rules and international standards regarding vehicle quality and safety have boosted the demand for advanced AOI systems, as they can match the complexity and speed of automated manufacturing.
Over the years, AOI systems have been optimized to collect data and provide feedback so that the manufacturing process can be improved, and any suitable adjustments are made. When used during the assembly or soldering process, AOI helps to inspect the quality of the product as it is being made, which considerably lowers the need for post-production inspections. The AOI system industry can benefit from the tremendous development in optical sensors and miniaturization of inspection cameras. The enormous opportunities for the implementation of AOI can be surmised from industry estimates which peg the global process automation segment to be valued at nearly USD 50.3 billion by 2020.
As more companies look towards AOI for ensuring a fast, reliable and cost-efficient quality control in manufacturing and process automation, the AOI system market is anticipated to register a 12% CAGR between 2018 and 2024. Viscom AG, Cyberoptics Corporation, AOI Systems, Nordson, ASC International, Omron Corporation and Kurtz Ersa, are some key players outlining the AOI industry dynamics. Compliance with evolving engineering standards and demand for higher quality of products will drive innovations in AOI technology.
Author Name :Pankaj Singh
Driven by the rapidly surging deployment of IR LEDs across a plethora of application verticals, the global infrared (IR) LED market has emerged one of the most transformative business spheres over the last few years. Companies forming a part of the automotive, consumer electronics, medical equipment, and myriad other industrial sectors are increasingly using IR assisted products. The use of IR LED helps to maintain working stability, accuracy, improve security, and reliability. The emerging technology trends such as automated driving assistance system, IoT, augmented reality, and artificial intelligence have also had a positive influence on the product demand.
Japan infrared LED market size, by application, 2017 & 2024 (USD Million)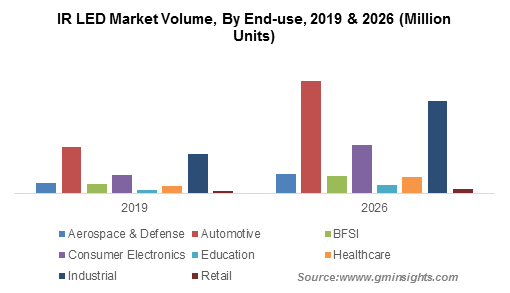 In most of the countries, in order to control the chances of accidents, automakers have been developing connected cars in which IR LEDs have been used prominently. It is thus rather overt that the advent of technically advanced features in every end-use sector will stimulate the infrared (IR) LED industry share. In line with the surging use of sensors in the various products, equipment, and vehicular systems, giants in infrared LED market have been investing in the enhancement of their product ranges.
A summary of the IR LED market trends from the automotive and consumer electronics sectors has been outlined below:
Automotive:
In the last few years, the automotive industry has witnessed a remarkable transformation with the advent of electric vehicles, connected cars, and self-driving cars. In addition, the growing concern among the automakers about the safety of occupants and the driver has encouraged them to bring new sensor assisted technologies such as excellent night vision, parking assistance, and blind spot detection. One of the renowned German automakers, Mercedes has implemented the Night View Assist system in its newly launched vehicle models that have full-LED headlamps incorporated with anti-dazzle infrared technology. The deployment of such IR LED technologies helps drivers bypass animals and pedestrians at night.
In addition, the company has also deployed a thermal imaging and IR camera which could enhance the chances of spotting the objects ahead of the vehicle effectively. The use of IR technologies and innovative features in the recently developed automobiles for improving the safety, driving efficacy, and comfort is poised to propel infrared LED industry share. For the record, in 2017, the automotive sector accounted for 30% share of the infrared LED industry.
Speaking more about innovations, it is prudent to mention that in order to gain competitive benefits, many companies are striving to launch new products in the automotive industry that could have a significant influence on IR LED industry outlook. For instance, recently, in January 2018, the Taiwan based company, Innolux Corporation has launched the first active matrix (AM) based Mini LED technology that has been used in automotive backlight panels. In addition, they are planning to develop a free shaped LCD for improving the appearance and design of future concept vehicles.
Get a Sample Copy of this Report:@ https://www.gminsights.com/request-sample/detail/437
Consumer electronics:
With the deployment of next-generation technologies such as IoT, AR, and AI, consumer electronics sector has emerged as one of the revenue generating business areas lately. In this regard, the giants in the infrared LED market have already increased their focus on research and development activities. Currently the leading smartphone makers and security system providers are innovating a new range of sensor technologies for deploying the same in smartphones and security cameras. As on today, for attracting more customers, smartphone makers are adopting new product designs like the multiple camera setup where they are extensively using sensors and LEDs. Recently, Nokia has unveiled its plan to develop a new smartphone having five rear cameras that could be incorporated with IR focusing apparatus, five lenses, and LED flash.
In another instance, a multinational lighting manufacturer, Osram is planning to invest 1 billion euros to expand an LED chip factory across Malaysia, the products of which will be used in phones, laptops, drones, fitness watches, security cameras, and automobiles. Moreover, Osram has been continuously involved in the invention of infrared LED chip for optimizing the effectiveness of security cameras. The Increasing requirement of CCTV cameras across the Asia Pacific region will further generate lucrative opportunities for the players in the infrared LED industry.
The extensive deployment of technology across the automotive and consumer electronics industries will have a favorable influence on the infrared LED market. The involvement of many industries in digitalization for improving work efficiency, product performance, and consumer comfort also will fuel the product demand over the years ahead. In line with the shifting trends toward digitalization, infrared (IR) LED market will generate a revenue of more than USD 1 billion by the end of 2024.
Author Name :Sunil Hebbalkar
Robust advancements in technology have led to a rise in the deployment of IT-based solutions, impelling GPU as a service market size. Nowadays, GPUs (graphics processing units) are being predominantly integrated with the CPU (central processing unit) in self-driving cars, artificial intelligence, and high processing power computing, subject to consumer demands for the installation of graphics in their systems.
APAC GPU as a Service Market Share, By Region, 2018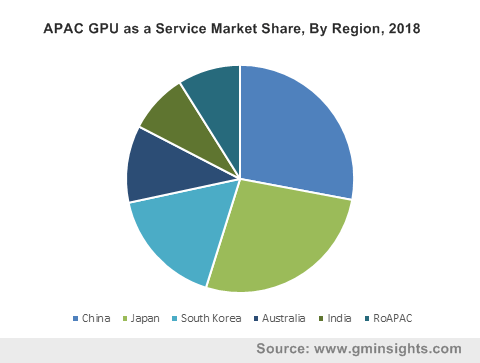 In the coming years, it is expected that the surging automation in vehicles for ADAS, internal infotainment, and other significant applications are likely to contribute toward enhancing GPU as a service industry outlook. It is prudent to mention that several product developers also prefer software-based systems such as CAD and CAM for improving the overall output efficiency and accuracy, which would considerably propel GPU as a service market over the years ahead.
Considering the benefits of GPUs, numerous educational institutes have been extending invitations to industry biggies for supercomputer installation. For instance, the Central China Normal University has called upon Inspur to build a petaflop supercomputer, which will help the educational organization host deep learning workloads and traditional HPC applications.
The deployment of artificial intelligence in particular, is slated to have a significant impact on GPU as a service industry trends, on account of which numerous companies have been striving to improve their AI-based programs and products for learning institutions. The robustly increasing adoption of AI-based technologies across scientific and industrial disciplines is thus anticipated to play a key role in the growth of GPU as a service market.
Get a Sample Copy of this Report:@ https://www.gminsights.com/request-sample/detail/2143
In recent times, the role of graphics in the automotive domain has increased to quite an appreciable extent, given the massive deployment of electronic content in vehicles. In-car electronics have moved beyond fancy HMI and entertainment displays to passenger protection and safety monitoring systems. Automotive OEMs that implement consumer-centric infotainment and innovative safety features are now attracting more consumers, stimulating the demand for GPUs. Thus, the surging deployment of 3D graphics and safety applications in automobiles would heavily drive GPU as a service market share in the forthcoming years.
Numerous automakers, as on today, have been deploying advanced automotive safety features such as advanced driving assistance systems in vehicles to comply with regulatory norms for occupant and automobile safety. Consumers have also been observed to give more preference for safety features while purchasing the vehicles. It goes without saying that on account of the aforementioned fact, the demand for GPU based built-in computational units that effectively work on safety monitoring would increase by several notches, thereby augmenting the revenue graph of GPU as a service market.
In addition, some automakers are looking forward to speed-up real-time response by reducing the time required for parallel algorithm execution in ADAS with the help of parallel processing power of graphical process units (GPU), further boosting this business vertical. In essence, the shifting trends toward the development of autonomous cars is likely to boost GPU as a service industry share in the future.
The latest trend proliferating GPU as a service industry is the growing utilization of 3D graphics in the expanding iOS and Android mobile applications. Undeniably, 3D gameplay, UI, and visual captive content are mandatorily being implemented in every mobile operating system. Each one of these implementations demands the deployment of a graphics card for improved functionality, that would commendably impact GPU as a service market share.
Effectively, the escalating usage of 3D graphics in mobile devices and the development of fancy UIs incorporating 3D graphics will stimulate GPU as a service market size, forecast to cross a revenue of USD 7 billion by 2025.
Author Name : Sunil Hebbalkar
The developments in Agricultural Drones Market is set to change the business landscape of agriculture and enable ultra-precision farming. The agricultural sector is likely to witness a major transformation in its value chain, as the robotic technology is set to enter into different aspects of farming. Rising deployment of this advanced technology is most probable to change the future of agrochemicals business and modify the designs of agricultural machinery. This has significantly impacted the market dynamics of the global agricultural drones industry.
Europe Agricultural Drones Market Size, by Product, 2016 & 2024 ($ Mn)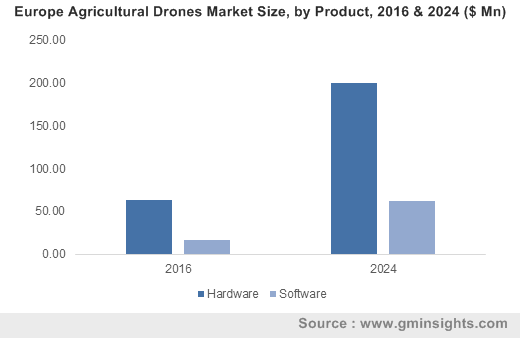 Farmers, all over the globe, are gradually adopting the drone technology to obtain better yields and improve their efficiency by effective use of the land, water, and fertilizers. This technology is assisting farmers in analyzing soil and crop data by taking pictures of their fields. The UAV (unmanned aerial vehicle) in agricultural drones market are the popular drones, which are incorporated with thermal cameras to provide better vision to the farmers. These images help agronomists in decision making and better monitoring of plantation. With the addition of GIS, GPS and sensor technology, the hybrid UAVs are poised to better assist the farmers by providing enhanced maneuvering information.
Drones to bring data analytics into farming
The agricultural drones have gained maximum leverage from the Internet of Things, arguably making agricultural industry much more advanced than ever before. The IoT is now set to drive the future of farming to the next level. High-tech and smart farming are no more things of the past, thanks to sensors and agricultural drones. Software solutions are in a way helping farmers by delivering real-time data for boosting yields. Furthermore, all of these technologies including satellite farming and agricultural drones are helping precision farming market to stimulate over the coming years.
Get a Sample Copy of this Report @ https://www.gminsights.com/request-sample/detail/253
U.S. to be major revenue contributor
Not surprisingly, agricultural drones market has substantially commercialized over the recent years. U.S. agricultural drones market is set to observe significant gains over the coming seven years, having accounted for 30% of the overall industry share in 2016. A notable increase in the deployment of UAVs in the region for improving crop productivity and field mapping has provided a major spur to agricultural drones market. The field mapping application accounted to be the leading segment in the overall agricultural drones market.
Crop scouting application within the agricultural drones industry is also assisting the farmers in achieving perfection and accuracy in fertilizer and pesticides spraying. These drones use the Normalized Difference Vegetation Index (NDVI), which detects plants under pressure with the help of various infra-red sensors. It is also used in differentiating the bare soil from grass or forest. Moreover, the UAVs mounted with LiDAR photogrammetry imaging applications helps in building topographic maps and providing an aerial view of the field.
The digital agriculture brought by these drones and robots is charting a path for next-gen agricultural industrialization. As per the UN Food and Agriculture Organization, by 2050, the world will need to produce 70% more food than it did in 2006 to feed the ever-growing population of the Earth. To meet this demand-supply mismatch, farmers and many agricultural companies are turning to invest more into such technologies, which in turn is driving the agricultural drones industry share considerably. The government entities of many countries are likely to encourage and take initiatives regarding the use of such technologies in precision farming. Global Market Insights, Inc., forecasts the global shipment in agricultural drones market to exceed 200 thousand units by 2024, growing at a rate of 13% over the period of 2017-2024.
PrecisionHawk, AeroVironment, DJI, GoPro, DroneDeploy, and Trimble Navigation are some of the key players in agricultural drones industry.
Author Name :Ojaswita Kutepatil